BTCSoftware won in three categories at this year's Accounting Excellence awards. This month we'll be looking at our award-winning software in more detail, starting with AP Solution.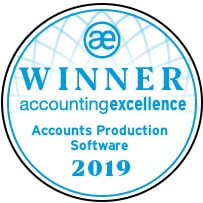 AP Solution
This year was our first win in the Accounts Production Software category. It was fantastic to be recognised for AP Solution as it reflects our commitment to continually improve our software in response to our customers' valuable feedback.
AP Solution is designed to make the completion of annual year-end accounts simple. Integrations with bookkeeping software, as well as integration with our other modules, means AP Solution saves accounting professionals significant amounts of time.
Corporation Tax returns are made easy with your limited company accounts feeding data directly into our CT Solution module. You, therefore, save time when making Corporation Tax computations. When you've calculated the Corporation Tax provision, it's easy to post the data back into the accounts as a journal.
Sole trader accounts can be imported into the self-employment supplementary schedules of the Individual Tax Return, avoiding re-keying data. This will save you time and help you avoid mistakes in transferring the information from AP Solution to SA Solution.
Easily import Partnership accounts to the Partnership Tax Return. Allocate profit and loss shares between partners, then import the data to the Partnership supplementary schedules of the Individual Tax Return.
AP Solution also saves you time with its flexibility. It allows cloning of accounts templates, and you can rename or add nominal accounts to the detailed profit and loss account.
The Best Support Around
All of our customers enjoy access to our highly regarded support team via phone and email. You can be sure that we will meet your needs, from initial set up and training to ongoing technical resolutions.
If you sign up for our Cloud Solution, our UK-based servers take care of data security and backups. So, you don't have to worry about investing in and maintaining your own servers.
Demos and Trials!
Get in touch with the team to book your free demo and discuss a trial of BTCSoftware. You can call our friendly consultants on 0345 241 5030 or email sales@btcsoftware.co.uk.
Don't forget – if you're currently using a different provider for your accounting and tax software, you may need to give 90 days' notice. That means December is the perfect time to start your journey with BTCSoftware!