On the 24th of September 2021, BTCSoftware and Pixie officially partnered to launch an integrated software to help firms save time during a busy tax season.
BTCSoftware and Pixie
We are known for our award-winning tax and compliance software. Having successfully provided thousands of accountants and businesses with great feature-rich affordable products to help them work efficiently and with more accuracy, we are continuously looking at ways to improve and deliver the best products in the market. Our customers have consistently provided us with outstanding feedback proving our ability to meet our customers' needs.
As we continue to grow and look for a new innovative way to strengthen our software, we decided to speak to our clients to see what they wanted. They said they wanted a more integrated solution to their self-assessment tax submissions. We, therefore, made the decision that it would be an excellent opportunity to partner with Pixie.
Pixie helps small accounting firms to get organised and save time. It's a simple, easy-to-use operating system where firms can keep track of work and deadlines, standardise their workflows, and automate manual processes.
Our integrated software means that we can bring you one platform which will allow you to grow your business with ease.
Why will our software integration benefit you?
Save time
By integrating BTCSoftware with Pixie's software, you remove the time it takes to switch from browsers making it quicker to manage your client tasks. Start your self-assessment tax returns with simplicity.
Employee efficiency
Employees within your business can work from one software system to manage, correspond, and update client information. An example of this is completing your tax returns. You can extract your tax return from BTCSoftware and send it to your client through Pixie for e-signing. This enables you to keep track of what has been sent for approval and what has been returned.
Better customer service
Easily send your clients a confirmation of their submission and set up reminders for each of their tax payments. As a result, employees will be able to provide clients with a quicker and more precise response, resulting in customer satisfaction.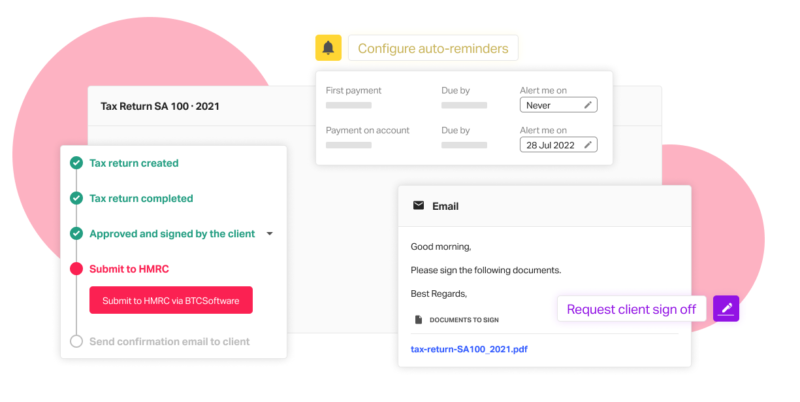 What should you do next?
If you want to improve your business performance and become more profitable, why not join our webinar on the 9th of November to learn how you can do this. Click here to find out about the webinar schedule and register.
If you are unable to attend the webinar and would like to know more about our integration, contact us on 01932 687024 or email us at Sales@BTCSoftware.co.uk